Regular price
$3,240.00 AUD
Regular price
$3,600.00 AUD
Sale price
$3,240.00 AUD
Unit price
per
Sale
Sold out
Whats in the kit - click here to find out
This oven kit is our Larger brick oven and is suited for commercial & domestic applications.

Perfect for the size (8 pizza capacity) its designed to hold up to 72hrs of unbelievable heat so your brick oven is a true brick oven. Harness the heat!
The oven comes ALL PRECUT and only assembly is needed!
This oven kit is our semi commercial Dome brick oven and is suited to commercial & domestic applications.
Made from the highest quality refractory materials this kit comes UNCUT..
We provide detailed instructions on its install aswell as all the tools to build the oven.
Base dimensions needed for this oven are 2000mm long x 1700mm wide
NO BRICKSAWS OR ANGLE GRINDERS NEEDED 
Why our brick ovens are far superior to our competitors … 72hrs of heat retention. . no more than 5mm joints internally
Our fire bricks are a 1500 degree rated fire brick over engineered and designed for everyday use of heating and cooling, Our bricks will NEVER breakdown over time and can handle the " THERMAL SHOCK " daily process. Inferior bricks mean bricks that breakdown in your oven and the brick crumbs falling in your food.
Our Sub floor insulation is a high quality european made board which does not break down over time.
Our oven chamber is built from the slab up. We offer a high quality non degradeable insulation brick as the first and most critical layer to the start the ovens chamber, this is done to give maximum heat retention and absolutely no movement over time….We never build brick ovens on insulation board. It breaks down
Our mortar is made in Australia to the highest quality and is the best mortar to be used. the biggest issue over time in any oven is the mortar joints breaking down with any inferior mortar or homebrew mix, so we use only the best..
Our assembly process is second to none. We offer Timber templates which are perfectly CNC to give a milimetre perfect fit. SIMPLE AND EASY – NO LONG BUILDS
We absolutely stand by the quality of our Brick ovens and rate them second to none. They are tried and tested in Australia with superior cooking and heat retention.
New Exact and precise drawings for exact brick placement – see images attached
Oven kit includes
Underfloor insulation 50mm
50mm PRECUT floor and font dress tiles 50mm – NO CUTTING OF ANY BRICKS
115mm PRECUT dome / chamber bricks – NO CUTTING OF ANY BRICKS
115mm PRECUT Door arch bricks – NO CUTTING OF ANY BRICKS
115mm PRECUT flue arch bricks – NO CUTTING OF ANY BRICKS
High temperature Airset & Dry mortar – Made in Australia and europe
Over chamber insulation ( ceramic fibre blanket ) 2 layers
Oven chamber CNC templates / tool  to help build it. ( for superior accuracy) – NO CUTTING OF ANY TEMPLATES
Oven Door and Flue arch CNC templates ( for superior accuracy ) – NO CUTTING OF ANY TEMPLATES
Stainless Steel 900mm x 150mm Commercial flue system with  hat
3mm Plate Black steel door, with temperature probe inserted
Stainless steel exhaust cap and brick exhaust trim
(whats not provided is the Chicken wire and Render)
Simple, Solid and half the Price!
WE CAN INSTALL THE OVEN FOR YOU IF NEEDED. FOR A QUOTE PLEASE CONTACT US. we install in Sydney, Melbourne, Adelaide, Perth, Canberra, Brisbane, Gold coast, Darwin
Current lead time from purchase
Shipping & Returns

We will charge a re-stocking and freight fee for returns upon change of mind.
Share
View full details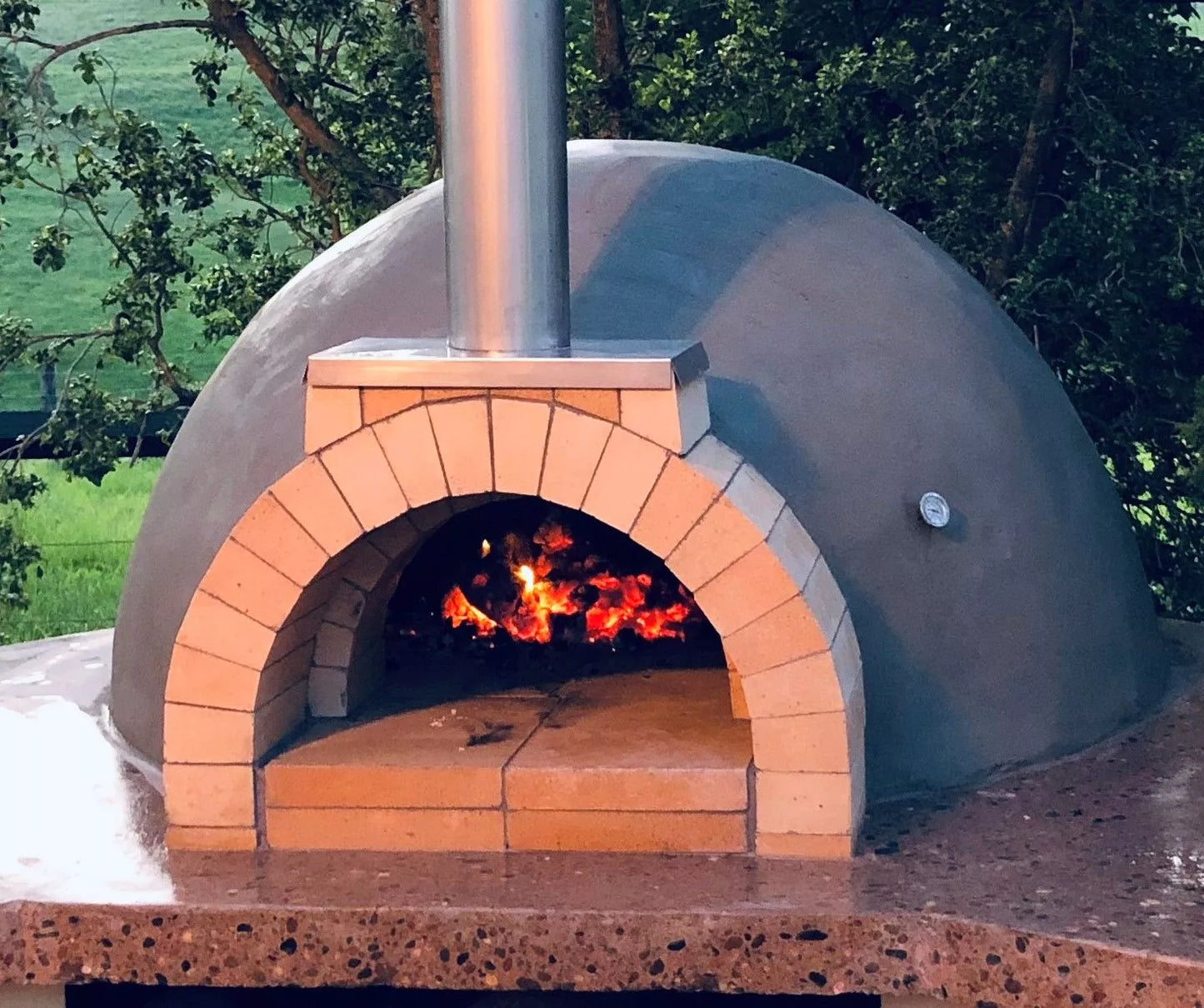 Whats in your kit